About Splinter
Splinter is a full-service general contractor specializing in residential and commercial renovations in Connecticut and New York. If you're looking for a partner with a collaborative, can-do attitude, keen attention to detail, unsurpassed craftsmanship and a design sense that can enhance any project, contact us today.
From foundation to finish, we'll provide everything you need, including drawings/renderings, seamless coordination of subcontractors, full project management, accurate scheduling, and on- and off-site problem solving (see full list of services).
Splinter is well-versed in a wide range of styles and will work with you to bring your vision to life. What sets us apart, especially on the East Coast, is our knowledge of modern style. This knowledge can open up many new possibilities for your home or office – in terms of materials, design solutions and use of space.
Splinter also specializes in solutions to make your home/office function more efficiently, as well as custom projects and installations, from frameless glass walls to cabinetry to outdoor kitchens. If you want something unique, chances are we can make it a reality.
Whether we're renovating a single room or an entire home or building, the experience you have during the process is as important to us as the work itself. That's why we're meticulously neat, and always considerate and respectful of your schedule and space. If you ever have an issue with our work – even long after a project has been completed – we'll be there to make it right.
About David Bedusa, Founder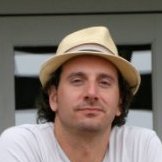 Dave has been building things most of his life. He started designing and building custom cabinetry in Fairfield County, CT in the early 1990s. Drawn to the West, he spent a year building movie and commercial sets for the film and television industry before starting Splinter in 2002. After six successful years with Splinter in Los Angeles, where he soaked in the California aesthetic, Dave (and Splinter) relocated to Fairfield County. As the principal of the company, you can be sure that David will be highly involved in every aspect of your project.